Timeflies is a musical group that consists of 2 people, Caleb (Cal) Shapiro and Rob Resnick. Cal and Rob began this pop band in 2010 from Tufts University. They are originally from New York and New Jersey but currently live in Los Angeles due to their success. Cal is known to freestyle with Rob beatboxes. Cal found his musicality at his summer camp when he sang the song Blackbird by the Beatles and found his passion immediately. He was a music and entrepreneur major as well as Rob at Tufts University.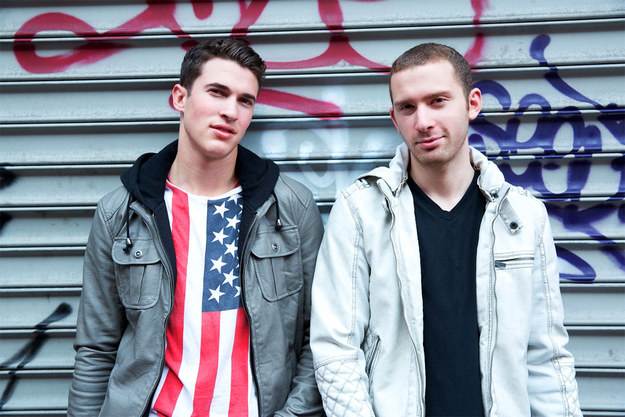 They met in their music program and immediately had an unbreakable bond. They began messing around which soon turned into creating covers of popular songs and mashups and it was a hit. Since they took off they have their own albums and continue to stay to their origins and do amazing covers. They became known as Timeflies Tuesday due to the fact that they would post a song every Tuesday night usually at 10:10pm. Timeflies wanted to create free music for their fan base, which is why they used YouTube to share their talent. I would stay up just to listen to the new song of the week. A bunch of my friends became fans and would text our thoughts on the new song.
2011 was when they came out with their original album The Scotch Tape. Their already large following got them to #8 on the Itunes overall chart within 24 hours, for a small pop band that was a big step. Since then they have debuted on the Billboards. They have partnered with Island Def Jam Group to have their own record label and take their band further.
Currently Timeflies has their own app to release tour announcements, link their tweets, post photos, and keep their fans in the loop. Their style is typically pop music but on occasion they release acoustic versions of songs, these are absolutely incredible. You are able to hear them stripped down and Cals voice is so smooth it's captivating.
Timeflies typically comes out with tours after they release an original album. They tour all over the world.
They make old songs feel new again with the way Rob uses his beats to liven it up. The song Let It Go was the bane of my existence with my 8 year old campers singing it constantly from the movie Frozen, but the way Timeflies was able to create something on the older scale made it a little more bearable.
They also come out with videos to go with their Tuesday releases. Sometimes it is a true music video but when they do covers they insert clips from their tours or their everyday lives. This makes their brand different because we get an outlook on their personal lives and get to see what they do behind the scenes. I love Timeflies and although I don' t wait up on Tuesday nights anymore I still make sure to keep up to date on their releases because 99.9% of the time I fall in love with it and it's on repeat until the next song is released.
I have been to three of their concerts and each time they took my breathe away.
If you ever have the chance to go to one of their concerts I highly suggest it. Each one is different, Cal and Rez make sure to give you an experience you'll never forget.